It's 2014 and it's my first year in the States after living in Paraguay and serving as a Peace Corps Volunteer for two years. Paraguay is a landlocked country of over 6 million people in the heart of South America. There are many things that set Paraguay apart from its neighbors but none more so than the reverence for Guaraní, the indigenous language of the Guaraní Indians, still spoken by 90% of Paraguayans. In fact, Facebook just launched in Guaraní two months ago. 
As a Peace Corps Volunteer in Paraguay, learning at least a few words and phrases in Guaraní is a must. In honor of National Peace Corps Week and to  help fulfill the Third Goal of the Peace Corps "to strengthen Americans' understanding about the world and its people," I've decided to share a few of my favorite words and phrases in Guaraní. I also just recently learned that last year #hashtags and GIFs were a big deal, so I thought this format would be the most appropriate for a 21st Century cultural exchange.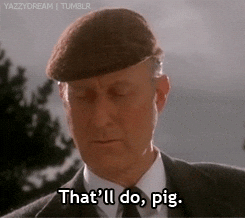 #Oiko means "it works" or "it'll do." If you want to add more emphasis you can say Oikoite which translates to "that really works very well." You can also use this phrase when talking about food that tastes really good. So forget the #numnum and use this new #hashtag for all your food pics on Instagram.